Yummie Tummie – Original Tank $62 – CLOSED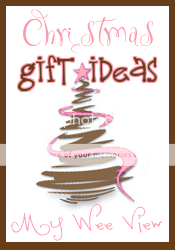 With Halloween over and Christmas here, it means lots of parties and probably too many treat!  I don't have much of a backbone when it comes to food (especially around the holidays).  If it tastes good, I usually eat it!  Which unfortunately means that I might be carrying around a few extra pounds, not too many, but just enough to make a bit of a tummy – I'm not taking about a Santa Clause sized belly, just an average belly that likes to live!  For all of you who like to live and enjoy all the good things that come with festivities, welcome Yummie Tummie – your new best friend.
I received the http://www.yummietummie.com Original Tank for review, and unlike other tummy tighteners and shapers, this one just has the tightness where you need it most – around the trunk.  The rest of the undershirt is really t-shirt material (how clever).  The Yummie Tummie is very long and the bottom (which looks like a t-shirt), hangs past all my shirts!
For any of you regular readers (*waves* hello, I Love you guys), you all know that I do have a slight "bust" problem (I use the word slight loosely).  I was very concerned when getting fitted for the Yummie Tummie.  I wanted to know if there was a built in bra – because I never fit in those things – and thankfully, there isn't.  There is however a line across the chest where the bosoms section ends (made with t-shirt) and the body tightner starts.  The tight section naturally starts under my chest because it's so tight, which means that the t-shirt section starts a little bit low giving me some cleavage – which is ok – if you've got it flaunt it right?!?  (um,,, my mother has never taught me that, but that's what I hear others say).  So, no biggie that the tank top part is a little low but I have to put another shirt on top anyway, so I am fully covered up (I can always hear my mother's voice in the background telling me to cover up – despite being 30, I tend to listen to her, most of the time).
There are a few things about the Yummie Tummie shaper that I think are important to note.  The middle section is very tight, which is a good thing, but it is also long, so it tends to bunch around the tummy a little bit because my hips are wide, and the tight part naturally does not want to stretch so it goes to the smallest section of my waist.  I don't mind because, a little bit of ruffle around the mid-drift is better than a little bit of blubber (it's not that bad, but you know what I'm saying).  I also wish that the back section was as thick as the front.  The front of the Yummie Tummie has 2 layers of stretch, and the back only has 1, and to be honest, I would meed it more in the back than the front – to get rid of my back fat.
Overall, I like that the top and bottom sections are made with regular t-shirt material, because it looks like I'm wearing just a regular t-shirt rather than a body shaper!
Buy it: To Purchase, visit Yummie Tummie online
Giveaway: One lucky reader is going to receive an Original tank top
To Enter: Visit Yummie Tummie and make  a comment back here about something else you saw on their site
Bonus Entries:
Follow My Wee View on Twitter,  and ReTweet this giveaway –  Great For Christmas – Yummie Tummie Original Tank body shaper #giveaway @myweeview $62 http://bit.ly/eBE54f (you can tweet this once a day for extra entries)
Grab my button
**Follow My Wee View on Google Friends Connect
Suscribe to my blog by RRS Feed or email
Make a comment on a NON giveaway post (or on one of my posts on Facebook)
Giveaway closes  December 30th @ 11:59 pm PST.  Open to Canada and US
CLICK HERE TO ENTER THE GIVEAWAY
**Disclaimer: The product/s mentioned above will be given to me free of charge from the company or PR firm in exchange for being featured on My Wee View.  The product features expressed in this post are those of My Wee View and have not been influenced in any other way.  Please see the full Terms of use.