Tea Collection – $100 Gift Certificate – CLOSED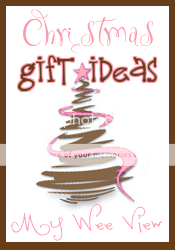 During the holidays, I try to dress up my little Tom Boy in the cutest girly outfits.  (I actually dress her up throughout the year, and tend to go a bit overboard around Christmas).  With all the parties, stop ins and flash photography happening, I figure it's best to have her in something nice at all times.  It can be a bit of a balancing act to get a beautiful outfit that is still play proof.  I received an adorable ensemble from Tea Collection that fits the bill.
Tea Collection carries dress up and dress down Children's clothing for kids ages 0 – 12.  For review, I received an Autumn Leaves Yoke Dress and a pair of leggings.  This "dress" is more of a long shirt.  Much like the style of today, it reaches nearly at her knees, and the leggings look adorable on her too.  I was actually surprised on the colouring of the outfit.  It's a little more eggplant than I expected – not that it's a bad thing, I was just surprised.  Maybe I should get the colouring on my laptop checked out?
She's been wearing this outfit to parties and other semi-formal outings.  With this outfit she is still  "all dressed up" without compromising on running, jumping, sliding and just being a super busy girl.  Because of the darker colour and strong pattern stains are not noticeable.  However, while eating white icing, it is apparent that she's been dabbling into cake, the bright colour really shows on the eggplant – but washes up just fine.
The Tea Collection has so many girls clothing and boys clothing choices when it comes to dresses, tops, sweaters and pants.  There are many styles and many patterns.  Also most of the outfits are completely matching so it's easy to put an entire ensemble together.
Tea Collection is currently having a sale on many items right now, so head on over and you can get some great deals just before the holidays.
Buy it: To purchase, visist Tea Collection online, or find store that sells Tea Collection.
Giveaway: One lucky reader is going to receive a $100 Gift Certificate to Tea Collection
To Enter: Visit Tea Collection and make a comment back here on this post about what you would get
Bonus Entries:
Follow My Wee View on Twitter, and ReTweet this giveaway – Christmas Gift Idea – Tea Collection clothing for Boys and Girls $100 Gift Certificate #giveaway http://bit.ly/dL0ptN  @myweeview (you can tweet this once a day for extra entries)
Like Tea Collection on Facebook (Please DO NOT make a comment on their Facebook Page)
Blog about this giveaway with a link to this post
Grab my button
**Follow My Wee View on Google Friends Connect
Suscribe to my blog by RRS Feed or email
Make a comment on a NON giveaway post (or on one of my posts on Facebook)
Giveaway closes  December 17th @ 11:59 pm PST.  Open to US and Canada
CLICK HERE TO ENTER THE GIVEAWAY
**Disclaimer: The product/s mentioned above have been given free of charge from the company or PR firm in exchange for being featured on My Wee View.  The product features expressed in this post are those of My Wee View and have not been influenced in any other way.  Please see the full Terms of use.