Shoes For Little Feet – $30 Gift Certificate – CLOSED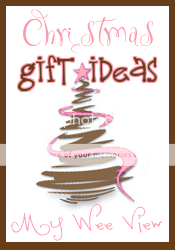 Around Christmas time Children often wear their best outfits.  One thing that is an absolute must with a beautiful ensemble is a pair of nice shoes.  Ladies, I think you can agree that a good pair of shoes will finish off any outfit.  With the holidays just around the corner, I knew that I had to get her a beautiful pair of shoes that DD could wear for special occasions.
Shoes For Little Feet carries all the best shoes out there for tiny tots.  I chose a pair of See Kai Run Belle Pink Shoes.  I know that See Kai Run are good quality and they are adorable too.  With brown being such a popular colour these days, it's hard to get a pair of shoes that are versatile and will match with both black and brown.  These little Mary Jane pink shoes with 2 rows of pink ruffles are perfect for nearly anything my daughter is going to wear this Christmas.
These shoes are adorable, and although I am suppose to be saving them for only special occasions, I catch myself putting them on her frequently.  She is now old enough to put her own shoes on and take them off.  The velcro straps are really long on these Mary Janes (they fold in half) so even kids with big dorsals (top part of the foot), there is lots of slack for the velcro to fit across.  My daughter falls into this category, she has rather chubby feet and cant wear a few types of shoes – this is another reason that I stick with See Kai Run.
Shoes For Little Feet has a Daily Deal so make sure to check back every day for what's going to be onsale.  Check out Today's Deal.  The shoes are usually up to 50% off!  They also have a reward program, so the more you buy from Shoes For Little Feet, the more points you get towards free gift cards.
My package from Shoes For Little Feet took about 3 weeks to arrive from the US, so for you Canadians out there, make sure to put your holiday orders in NOW.  The good news is, they ship with USPS so the packages should not get stopped at the boarder.  And there is free Shipping on orders over $30!
Buy it: To purchase, visit Shoes For Little Feet online
COUPON CODE: "WEEVIEW" for 20% off your order
Giveaway: One lucky reader is going to receive a $30 Gift Certificate
To Enter: Visit Shoes For Little Feet and make a comment back here about what pair you would get… and let me know if you put away a special pair for special occasions.
Bonus Entries:
Follow My Wee View in Twitter,  and ReTweet this giveaway –  Christmas Gift Idea – Shoes for Little Feet $30 GC #giveaway  @myweeview http://bit.ly/gxR2yp (you can tweet this once a day for extra entries)
Blog about this giveaway with a link to this post
Grab my button
**Follow My Wee View on Google Friends Connect
Subscribe to my blog by RSS Feed or email
Make a comment on a NON giveaway post (or on one of my posts on Facebook)
Giveaway closes December 17th @ 11:59 pm PST.  Open to Canada and US
CLICK HERE TO ENTER THE GIVEAWAY
**Disclaimer: The product/s mentioned above have been given free of charge from the company or PR firm in exchange for being featured on My Wee View.  The product features expressed in this post are those of My Wee View and have not been influenced in any other way.  Please see the full Terms of use.