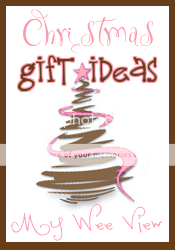 Christmas time means lots of cooking, baking and time spent in the kitchen!  I would also say that I tend to dress up and wear some of my best clothing around Christmas – which isn't always the best combination!  I have ruined more clothing with grease and oil while cooking then I would like to admit.  It has taken me a while to learn, but recently as I work away in the kitchen, I have also worn an apron.
Beansoup makes fashionable aprons for adults and children (because we all know how much kids like to have fun in the kitchen too).  DD has regularly worn her new chocolate orchid apron.  At only 2 years old, DD isn't doing much cooking, but she is doing plenty of crafting, painting and messing – so an apron is just as important!  I have put on this adorable brown, blue and orange apron on top of her clothing to protect them while she is busy being a girl.  The apron is long, so it also covers her pants.  It is an apron that ties around the back of the neck and does not cover the arms, so I just make sure to lift up her sleeves.
What I love the most about this apron is that I have a matching one – yep, that's right, DD and I can be in the kitchen together wearing the same thing.  Often, while DD is being creative, I am making dinner, so we both will be wearing our matching aprons together.   And,,, it gets even better – my mother has one too – that's right, 3 generations of matching aprons.  Can you imagine, all of us together at once wearing the same thing.  I think it's adorable, and I know my Mom likes the idea too – how lovely to be wearing the same thing in the kitchen with your daughter and granddaughter?  I'm sure, it's every grandma's dream.
I really like the pattern of these aprons, I like that they protect my clothing and I especially like that my family can all feel connected, especially while in the kitchen – which is typically a gathering point.  I wonder if I could get my husband to wear one too?!?  (Now, I think I'm dreaming).
Beansoup carries aprons for children and adults in many different patterns and also cobbler aprons (the classic 1940 style aprons).  For the boys (and of course girls too), they also have capes!
Buy it: To purchase, visit Beansoup online
Giveaway: One lucky reader is going to receive matching aprons (2)
To Enter: Visit Beansoup and make a comment back here about what you would like to get
Bonus Entries:
Follow My Wee View on Twitter, and ReTweet this giveaway – Christmas Gift Idea – Matching aprons from Beansoup – baking and cooking in style #giveaway @myweeview http://bit.ly/hK0ZP7 (you can tweet this once a day for extra entries)
Like Beansoup on Facebook
Grab my button and put it on your site (use the html code to add my logo)
**Follow My Wee View on Google Friends Connect
Suscribe to my blog by RSS Feed or email
Make a comment on a NON giveaway post or on a Facebook post
Giveaway closes December 10th @ 11:59 pm PST.  Open to Canada and US
CLICK HERE TO ENTER THE GIVEAWAY
**Disclaimer: The product/s mentioned above have been given free of charge from the company or PR firm in exchange for being featured on My Wee View.  The product features expressed in this post are those of My Wee View and have not been influenced in any other way.  Please see the full Terms of use.