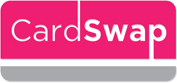 I know you guys all like a great deal (who doesn't?!?).  Many deal sites that I have come across online are American.  Although we, as Canadians, love our Southern Neighbours, most of the awesome deals never apply to us.  So this great deal website is for all my lovely Canadians!  (You can thank me later).
Cardswap.ca is an online site that offers discounted gift cards.  There are some great deals to be had!  For example one Cardswap.ca member saved $100 on a gift card that they purchased (this means the gift card was $100 cheaper than the amount available on the card).
If you have some special stores that  you absolutely love to shop at, you can make a favourites list and you will received notification when one of those special cards is placed online – but I would make sure to jump on the deal really fast because each deal can go really fast.
Right now, you can buy a $200 Pier 1 Imports Gift Card for only $160, that's a $40 savings (or 30% for you math whizzes).  Actually, my favourite option about the Cardswap.ca page is the option to shop and save by percentage.  You can also shop and save by price, location and category – there's everything from hotels, movies, restaurants and clothing stores..
If you have an old gift card collecting dust in your home, you can sell your card on Cardswap.ca as well and get money for a gift card that you otherwise have no interest in using.
Right now, Cardswap.ca is giving away an iPod touch, so head on over an enter that great giveaway as well.
**Disclaimer: This is a sponsored post. Please see the full Terms of use.