Live Simply – Medical Journal – CLOSED
Being on top of everything, all the time, can be very difficult – especially as a new Mom.  I remember when my daughter was first born (almost 2 years ago), some days I would be running on poop fumes.  I'm not sure how I made it through the day, but eventually night time came and we did it all again the next day.  Looking back on those 2 years, it feels like a big huge blur.  If I were to go back and change a few things (hey – let's be honest, there are more than a few things I would change), one thing that I would definitely have started earlier is a health journal, like the one  I received from Live Simply.
This journal is like a keepsake book but it includes all things medical, from checkups, sick days, vaccines, dentists, allergies and everything in between.  All your child's health related items are kept together all in one fancy book for easy reference and up to date information about your child's well being.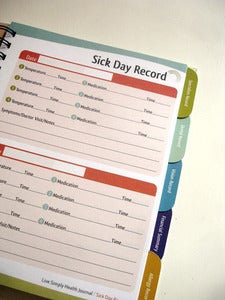 My daughter must have had over 2 dozen doctor appointments already, so I really feel like I've missed out on capturing all the important information about her health.  I can remember generalities… she had a pretty bad cold when she was 6 weeks old and we had to bring her to emergency, but I can not remember what medication she may have gotten to help her.  She's been to specialists for acid reflux, the dentist for an overbite, a pediatrician for a pigeon toe foot, an allergy doctor for a break out after eating potato salad…. all these things are simply in my head and not on paper anywhere.  I can somewhat remember the timing of these instances, but I will never be able to know the exact day.  This is why I really wish I had the Live Simply Journal as soon as DD was born.  It would have made tracking all these appointments and important health information straight forward and easy, instead I am left with a brain full of 1/2 accurate appointments and doctor recommendations.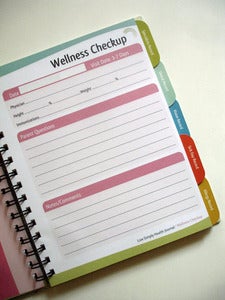 I suppose I could ask my doctor if she would be willing to give me past information on things like vaccines so I could update my Live Simply journal, but I truly wish that I had this book since the day she was born so I could fill it out as things occurred.   The checkup section on the journal has each visit listed from 3-7 days, upto 18 years old.
The journal also includes a section for family's medical history, so my husband, myself and any other family member can add any illnesses or diseases that would be important for our daughter to know about.  There is even a financial summary section to help organize insurance payments and claims.
I am super impressed with the Live Simply Journal.  It is so well organized, straight forward to use and it's cute too!  My only regret is that I did not get this journal as soon as my child was born, because I almost feel that now (at almost 2), I've missed a lot of the important doctor appointments – but lets be realistic here, her life has REALLY just begun – this is just the typical Mom being hard on herself.  It's never too late to start something like this.  This would make an excellent shower gift for an expecting Mom.  I will definitely be using one if/when baby #2 arrives.
Buy it: to purchase, visit Live Simply online
Giveaway: One lucky reader is going to receive a journal
To Enter: Visit Live Simply and make a comment back here about something you saw on their site
Bonus Entries:
Follow My Wee View & Live Simply on Twitter on Twitter and ReTweet this giveaway RT @myweeview @livesimplyllc #giveaway –  Live Simply Medical Journal.  Cute & Organized. http://bit.ly/aF4MVf  (you can Tweet this once a day for Extra Entries)
Like Live Simply on Facebook (and let them know I sent ya)
Blog about this giveaway with a link to this post
Grab my button
**Follow My Wee View on Google Friends Connect
Suscribe to my blog by RRS Feed
Subscribe to my blog by email
Make a comment on a NON giveaway post
Giveaway closes August 27 th @ 11:59 pm PST.  Open to US and Canada
CLICK HERE TO ENTER THE GIVEAWAY
**Disclaimer: The product/s mentioned above have been given free of charge from the company or PR firm in exchange for being featured on My Wee View.  The product features expressed in this post are those of My Wee View and have not been influenced in any other way.  Please see the full Terms of use.