Step2 – Naturally Playful Countryside Cottage ($329) – CLOSED
One thing that is absolutely necessary during the summer months is spending time at a cottage.  Unfortunately, my husband and I don't have a cottage to bring our family to.  However, there is still a way for my daughter to get that cottage feeling with the Naturally Playful Countryside Cottage from Step2 that I received for review.  Step2 has amazing play structures, toys and houses for kids ages 0 – 7!
When the Step2 Cottage arrived in the mail, I had my husband put it together that evening.  My mother-in-law was visiting so the two of them put the whole cottage together in less than 20 minutes.  I will suggest getting an electric drill to put it together or you could be there for days twisting all the screws in.  The cordless drill made the process way easier.
This is one amazing and fun place for the kids to hang out.  My next door neighbour babysits 6 kids nearly everyday (how does she do it?!?).   I am lucky enough to have my Mom take care of DD and she takes her outside to play with the neighbour kids every day that it's nice.  All the kids amalgamate over at my house and play house in the Step2 Naturally Playful Countryside Cottage.  The kids are ages 1.5 – 4 years, and they all love it.
Inside the cottage there is a fireplace and a bookshelf (not functional), a little sink with a faucet that swivels, a stove with a little clicking knob, a mail slot and a flower pot (which I haven't put any flowers in, DD and my husband use this as ball target practice ).  The kids favourite accessories of the Naturally Playful Countryside Cottage are the doorbell and the cordless phone.  Both of these accessories have batteries (not included) and make noises just like a real doorbell and phone.  The kids hold the phone on their ear and walk around pressing the buttons and talking just like grownups would on the phone.  They also ring the doorbell at the front door (which is also functional) and open and close the door.  The cottage is also tall enough for all the kids to stand in without having to bend over (it's 54″ tall).
It's so nice to see all the kids play make believe and pretend.  It's obvious that they are having lots of fun, and are learning at the same time (how wonderful).  They don't all fit inside at once, but they take their turns playing make believe with all the functions that the cottage has to offer.
The Step2 Naturally Playful Countryside Cottage has stood up to 7 kids playing and banging it around as well as the blistering heat and a few torrential down pours.  It is still in excellent condition.   This cottage is a huge hit with all the kids in my neighbourhood.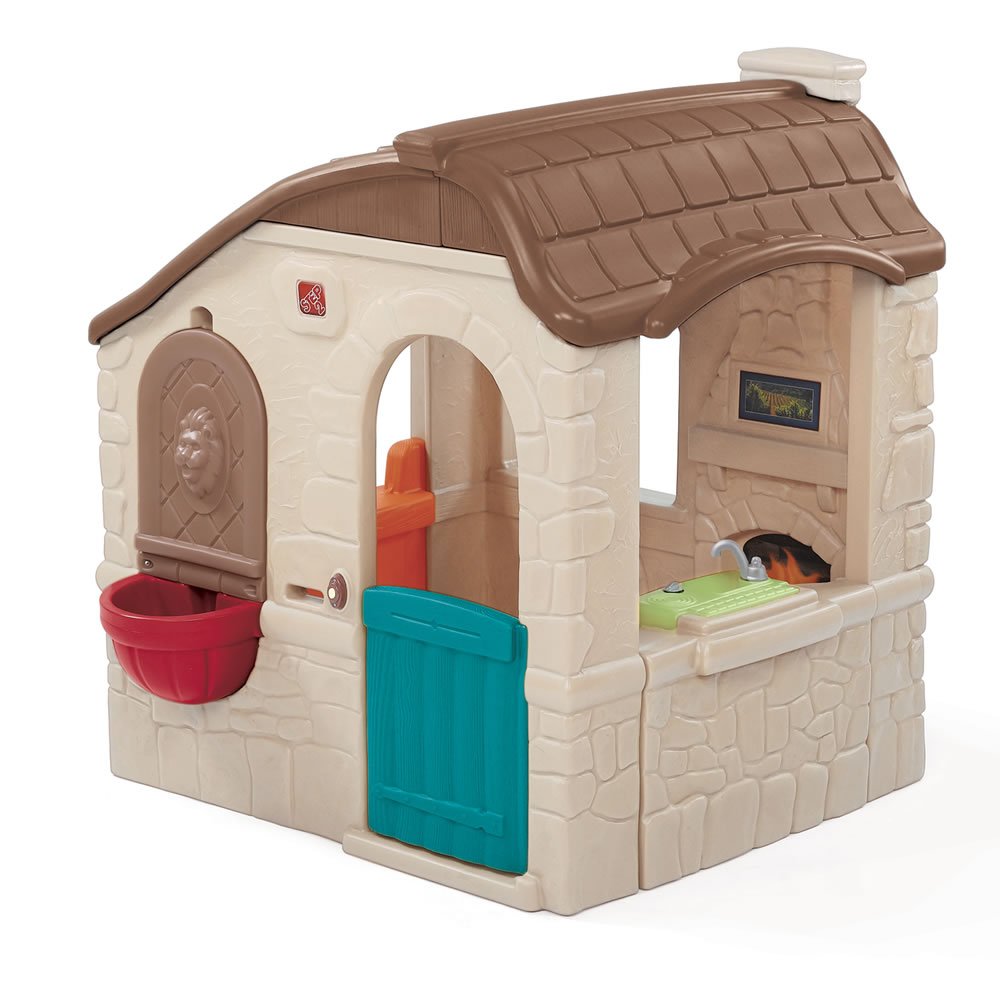 Buy it: To purchase, visit Step2
Giveaway: One lucky reader is going to receive a Naturally Playful Countryside Cottage ($329)
To Enter: Visit Step2 and make a comment back here about another product you like on their site
Bonus Entries:
Follow My Wee View and Step2 on Twitter on Twitter and ReTweet this giveaway RT @myweeview @thestep2company Naturally Playful Countryside Cottage #giveaway ($329) http://bit.ly/dtqayF (you can tweet this once a day for extra entries)
Like Step2 on Facebook
Blog about this giveaway with a link to this post
Grab my button
**Follow My Wee View on Google Friends Connect
Suscribe to my blog by RRS Feed
Subscribe to my blog by email
**Make a comment on a non-giveaway post
Giveaway closes September 4 th @ 11:59 pm PST.  Open to US and Canada
CLICK HERE TO ENTER THE GIVEAWAY
**Disclaimer: The product/s mentioned above have been given free of charge from the company or PR firm in exchange for being featured on My Wee View.  The product features expressed in this post are those of My Wee View and have not been influenced in any other way.  Please see the full Terms of use.