Jollys – Pair of Clogs – CLOSED
One thing I love about summer is working in the yard.  There is nothing more that I like to do but pick weeds (did I just say that?!?)  Well, that's probably a lie, there are lots of things that I like more than picking weeds, but I do like the satisfaction that I get once the weeds are picked and the grass is all green and nice.  Then, I come outside the next day only to see yellow dandelions on my front lawn again and I once again to pick them out.  If I'm going to be outside every evening, keeping up with the dandelions, I may as well look good doing it!  The gardening shoes that I received from Jolly Clogs keep me stylish while picking weeds.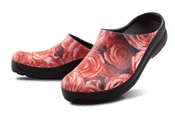 This is the second pair of Jolly Clogs that I received, the first pair were pink with flowers, you can read the review here.  The pair of clogs I received this time are red with roses.  I love my Jollys, actually, I like these ones more than the pink ones.  I find that the pink ones aren't as flashy as I would like (this is a major change for me).  The red of the roses really stand out and people notice my shoes right away!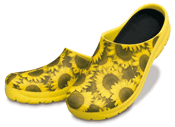 Along with this fashion and flashiness of the shoes, I also enjoy how comfortable they are.  The shoe is made with a harder rubber but the size 7 fits my foot perfectly and there are even little toe molds which make the shoes so comfy.   I know you are probably thinking that hard rubber doesn't sound comfortable at all, but  they really are.  I have taken these shoes to work and used them during lunch hour to go for a walk with my co-worker.  What also makes these shoes comfortable is that there is no backs, so it's so simple to slide your foot in and out, but it doesn't float around either.
The shoes are also waterproof so while gardening you can use the hose and not get wet, but the backs are open so just make sure not to step into any large puddles.   I also find that since the shoes are a thick rubber that it doesn't breath too well and my feet can get a little hot, but nothing too bad.
Overall, I truly love my Jollys!  I love how stylish, comfortable and functional they are.
Jollys also has clogs for men and children so make sure to check out their great shoes.
Buy it: To purchase, visit Jollys online
Giveaway: One lucky reader is going to receive a pair of Jollys
To Enter: Visit Jollys and make a comment back here about your favs
Bonus Entries:
Follow My Wee View on Twitter on Twitter and ReTweet this giveaway RT @myweeview #giveaway pair of Jolly Clogs – fun & stylish gardening shoes/clogs  http://bit.ly/cc3j4k (you can tweet this once a day for extra entries)
Blog about this giveaway with a link to this post
Grab my button
**Follow My Wee View on Google Friends Connect
Suscribe to my blog by RRS Feed
Subscribe to my blog by email (2 Entries)
Giveaway closes August 13 th @ 11:59 pm PST.  Open to US and Canada
CLICK HERE TO ENTER THE GIVEAWAY
**Disclaimer: The product/s mentioned above have been given free of charge from the company or PR firm in exchange for being featured on My Wee View.  The product features expressed in this post are those of My Wee View and have not been influenced in any other way.  Please see the full Terms of use.